Written By: Dr. Tatyana Johnson ~ 7/8/2019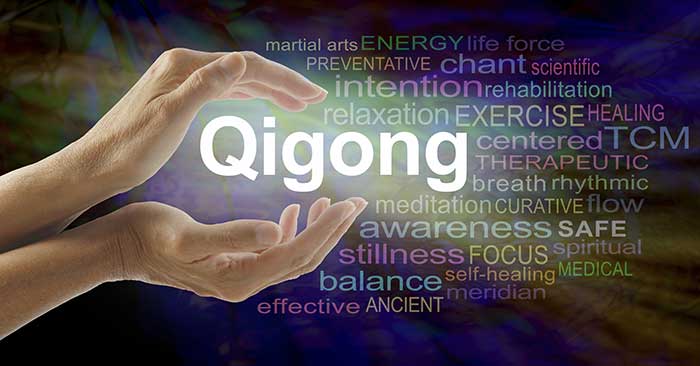 In modern medicine, the oncology field is increasingly incorporating integrative modalities. The power and effectiveness of Qigong, meditation, and yoga have been supported by numerous clinical trials (2). Qigong is a safe and gentle form of mind and body exercise rooted in traditional Chinese medicine. The purpose of these modalities is to activate the parasympathetic nervous system, leading to a deep relaxation stage while improving blood circulation and lymphatic drainage. One of the main principles in the cancer care field is to improve patients' quality of life.
Research has demonstrated that Qigong also impacts fatigue, the immune system, adrenal gland functioning, and cognition in patients with cancer (1). Qigong can be static or dynamic; neither form is superior to the other. The main principles of Qigong are slow movement, deep breathing, clear mind, and self-awareness techniques (1,2). We know that Chinese medicine is not only for treating symptoms such as pain or nausea; it treats the whole body. When a patient is suffering from cancer or in a rehabilitation period after surgery or radiation/chemotherapy, many quality-of-life (emotional, spiritual, and physical) components are involved (3,4).
A study conducted with 162 participants with cancer, the most common being breast cancer and colorectal cancer, with a base line age of 60, measured quality of life (QOL) and fatigue using the Functional Assessment of Cancer Therapy-General and Functional Assessment of Cancer Therapy-Fatigue as well as mood status using the Profile of Mood State. The study monitored the inflammatory marker serum C-reactive protein (CRP). Qigong practice was provided with experienced instructors for 10 weeks in two 90-minute sessions each week. "Regression analysis indicated that the MQ group significantly improved overall QOL (P < 0.001), fatigue (P < 0.001), mood disturbance (P = 0.021) and inflammation (P < 0.044) compared with usual care after controlling for baseline variables." (5). This study demonstrates that, overall, medical Qigong can improve quality of life and mood status as well as reduce the side effects of treatments and inflammation.
Another randomized, controlled pilot study conducted with 30 patients with different forms of cancer measured quality of life and symptoms using the EORTC QLQ-C 30 and the disease progression with the inflammation biomarker (i.e., CRP) via a blood test (6). The results showed that medical Qigong reduced the side effects of chemotherapy and radiation therapy as well as inflammation biomarkers (i.e., CRP). However, due to the small simple size, the results were not statistically significant, warranting further investigation with a larger sample size.
It is important to conduct more clinical trials to prove the role of medical Qigong in cancer care due to positive outcomes. Studies thus far have investigated the short-term impact of medical Qigong. Tracking the impact on patients' quality of life over the long term requires more studies with larger groups. Reporting the methods and forms of Qigong will also be beneficial for both practitioners and patients.
The combination of safety, cost-effectiveness, and positive outcome may lead to the use of medical Qigong not only for cancer support, but also for the management of all chronic health conditions among patients of all ages. The popularity of this form of exercise in different countries also indicates a positive impact on the general population.
References:
1.Klein, P. Qigong in Cancer Care: Theory, Evidence-Base, and Practice. Medicines 2017, 4, 2.
2. Rosenthal, D.S.; Doherty-Gilman, A.M. Integrative medicine and cancer care. Virtual Mentor 2011, 13, 379–383.
3. Mishra, S.I.; Scherer, R.W.; Geigle, P.M.; Berntanstein, D.R.; Topaloglu, O. Exercise interventions on health-related quality of life for cancer survivors. Cochrane Database Syst. Rev. 2012, 15.
4. Klein, P.J., Schneider, R. & Rhoads, C.J. Support Care Cancer (2016) 24: 3209. https://doi.org/10.1007/s00520-016-3201-7
5. Oh B, Butow P, Mullan B, Clarke S, Beale P, Pavlakis N, Kothe E, Lam L, Rosenthal D (2010) Impact of medical qigong on quality of life, fatigue, mood and inflammation in cancer patients: a randomized controlled trial. Ann Oncol 21(3):608–614
6 . Oh, B., Butow, P., Mullan, B., & Clarke, S. (2008). Medical Qigong for Cancer Patients: Pilot Study of Impact on Quality of Life, Side Effects of Treatment and Inflammation. The American Journal of Chinese Medicine, 36(03), 459–472. https://doi.org/10.1142/S0192415X08005904